Personalised Paint by Numbers is a unique and original gift!
Tuesday, 27 November 2018 | Admin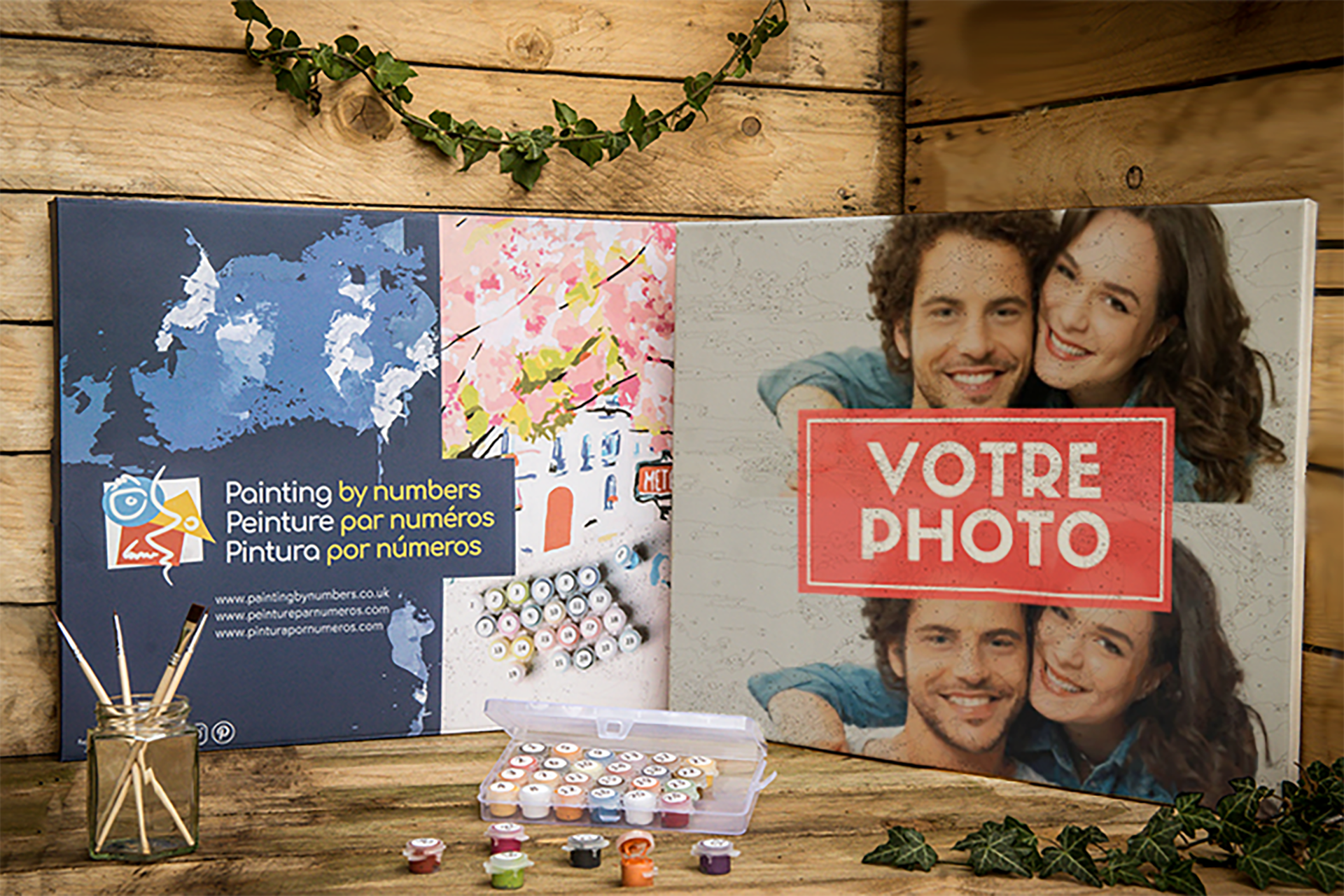 For many years, it was believed painting was reserved for true artists, those with an overflowing imagination and innate talent.
These theories are outdated and now we have Paint by Numbers which is accessible to everyone.
Paint by numbers for adults, what is it?
The principle of this practice is very simple: on a stretched linen or cotton canvas is represented a motif, a landscape, fictitious or real. This pattern is divided into small, numbered boxes that correspond to a colour. Various pots of acrylic paint accompany the canvas, as well as brushes of different sizes, to allow you to create authentic and sublime works.
It's an ideal experience for anyone who has a certain artistic flair in them but doesn't know how to exploit it, for fear of making a mistake or doing something wrong! The lack of self-confidence should not be a limit to art, and thanks to our numbered paintings, perhaps you will discover a real talent! Note that there is no obligation to follow the colour instructions to the letter: let your desires speak for themselves and then create a unique and personal artwork.
To go even further into the personalisation of your painting, we have developed a system that allows you to transform your favourite photographs into paintings by the use of numbers! For you and for your loved ones, this represents a gift of rare authenticity, far from the usual clothes or flowers that are offered out of habit. This is a personal present that will best meet the expectations of your loved ones or yours!
A memorable moment photographed during your vacation, the portrait of your children, your pet, everything is possible, from the moment this photograph is in high definition. Indeed, for a delicate and authentic rendering, it is necessary to provide a quality photo which will thus be able to be transformed into a true work of art. Once we have verified that the quality is sufficient and payment has been made, we will be able to create the basis for your future masterpiece, a custom numbered painting down to size, due to several sizes available.
Painting on a personalised numbered canvas is an opportunity to venture out a little more, or to focus all your attention on a person who is dear to you. Thereafter, you can proudly display your creation on a wall in your house or apartment and admire it every day.
Personalising a gift in this way shows others that you know them well and that you ardently wish to please them. Moreover, you can take care of them, by offering them a present which will serve their skill, their patience and their concentration! It's for certain that personalised paint by numbers only has advantages!
When to offer a personalised painting by numbers?
The year is filled with times when it would be ideal to gift a personalised painting by number.
Why not think about it for the birthday of your niece who loves her Labrador above all else and would be delighted to paint it for herself!
The holidays are also a great time to gift a personalised paint by number, whether it's for your mum or dad. It's up to you to choose a photo of their favourite activity, of the family or of a place that they particularly like! This will allow them both to find themselves in a peaceful and sharing moment. Who knows, maybe it will awaken a long-buried passion in them and then inspire them to start painting lessons! There is no age to get into art.
You can also paint yourself a sublime personalised painting by number and then offer it to your grandfather, for example, a personal and adorable Christmas present.
However, don't forget that you don't have to wait for a special occasion to please your loved ones, it's all about doing it when you feel like it too!
The Highlights of Custom Paint by Numbers
To get started, we must first see the benefits of paint by numbers beyond customisation. The budding painter will be able to develop and master a certain attention to detail, precision and patience, because these are the main qualities necessary for this type of work.
This is an opportunity to discover a new art, for those who have never been able to learn about painting, and what better than to start by painting the face of your loved one, your child, a beloved pet, or even a place that made a deep impression on you? There are many memories in our minds but being able to put them on canvas is an accomplishment in itself.
Moreso, the works produced will be totally unique and authentic if produced from a photograph. It's up to you to let your heart and your desires speak in the choice of colours, if some seem more relevant or more pleasing to the eye than others. The principle of such a personal gift is that it lasts over time, it is not likely to fade or no longer correspond to the person's clothing tastes, it can follow with them for many years.
Over time, the painter will develop a meticulousness in their work and their everyday life! In addition, the moments that you will devote to painting will at the same time be precious moments to refocus on yourself, in peace and quiet. If you practice this activity with others, it is a real moment of sharing and exchange that is offered to you. No need for diverse knowledge, only passion brings you together, whatever your age, to create works close to your personality and your life.
Order your paint by numbers from a photo