Paint by Numbers Without Mixing
Friday, 20 August 2021 | Admin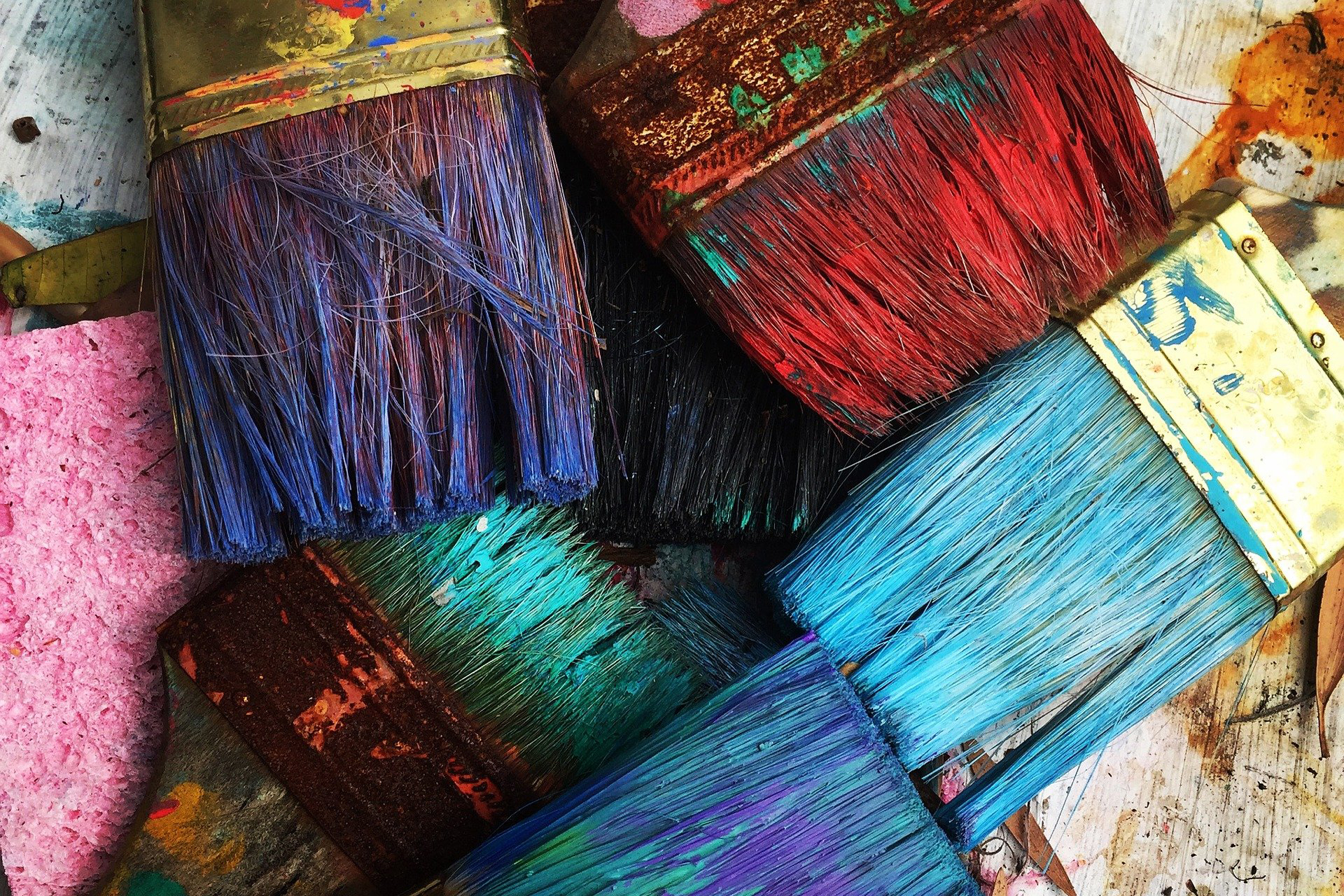 Do you know paint by numbers requires no mixing at all? If that really means nothing to you, you'll have to think back to your kindergarten years, because it is an activity that is widely practiced in early education, for a very long time and still is today. It involves colouring or painting a white canvas on which numbered areas are drawn. Each number corresponds to a specific colour. It's as simple as that.
Adult paint by numbers, from kindergarten to adulthood
So let's go back to kindergarten, where children can experiment with paint by numbers without mixing. Initially, it is often done in coloured pencil. It teaches children to recognize numbers, to master the pencil and colour within the pre-exiting lines.
As the child progresses, they can then move on to the paintbrush, which is a little more difficult to hold, with the additional difficulty of re-plenishing it with paint. They'll also begin to discover the interactions between colours. They can see those that "go together", those that offer contrasts or complementarities. Even if they can't put a name to these ef-fects, they're becoming aware of the importance of colours and their ar-rangement. It is part of their artistic education.
For children, painting by numbers without mixing is also exciting be-cause they don't have the model next to them and they'll slowly begin to discover, as the painting takes shape, what it represents. This sharpens a child's curiosity and imagination.
Why is it possible to paint by numbers without mixing?
Perhaps you have never thought too deeply into it, but some painters mix their colours on their palette before applying them to the canvas, and others only paint with pure colours, that they place in small strokes on the canvas, one next to the other, without ever mixing them.
This is the principle discovered and then explored by certain painters at the end of the 19th th century. They were part of one of the most famous and popular movements in painting: the Impressionists and the Post-Impressionists .
By what strange process did this movement "invent" a painting that goes against all logic and yet gives a magical rendering that fascinates us so much? Surprisingly, the basis of this work is not artistic – it will soon become so – but scientific.
The law of simultaneous contrast
Unmixed painting takes up a scientific principle that the Impression-ists themselves adapted to their art: the law of simultaneous contrast. We owe the theorization of this optical phenomenon linked to our perception of colours to a French chemist, Michel-Eugène Chevreul.
In 1824, Louis XVIII appointed Chevreul as director of dyes at the Man-ufactures Royales des Gobelins. He was surprised to regularly receive com-plaints about the quality of the colours of the dyes leaving the workshop. Therefore, he launched himself into experiments to understand where the problem came from.
This is how he worked on the contrast effect - already approached by Leonardo da Vinci - and discovered that it was the optical effect that mod-ified the perception of colours. Indeed, by juxtaposing two coloured ob-jects, each influences the perception of the eye. The tone and nuance dif-fer if one observes these two objects separately.
Chevreul pushed his experiments until he was able to formulate a law which he details in his work published in 1839, entitled 'Of the law of the simultaneous contrast of the colours and the assortment of the col-oured objects' . Depending on the colour you place next to another, the first may appear brighter, or on the contrary darker. Our brain auto-matically mixes two neighbouring points of different colours and the reti-nal perception is a mixture of these two points, which are nevertheless distinct.
The law applied by painting by numbers without mixing
It is this law that Georges Seurat and Signac further developed. Re-noir, Monet, Van Gogh… all benefited from their findings. When it comes to unmixed paint by numbers, retinal perception also holds great importance and influence, which is a huge plus.
DIY - paint by numbers adult
Paint by numbers without mixing is part of DIY, Do It Yourself hobbies. You don't need to be an accomplished artist to do so. This is an opportuni-ty to take time for yourself, to focus on your hobby, whilst also having a good time.
The advantage of paint by numbers without mixing is that you can devote yourself to it, without having studied fine arts. You don't need to know the art of perspective, or the rules applied to colours and colour mix-tures. You're provided with small pots of paint that are numbered and you will use as is, without having to mix on a palette or in a container.
The pre-numbered boxes can be quite large solids for backgrounds, but when it comes to painting the details of your canvas, you have smaller box-es which, juxtaposed, will observe the law of simultaneous colour contrast.
Stepping back from your canvas, your brain will be doing unconscious work and retinal perception will show you a detailed picture, with more nu-ance than actually exists.
The great diversity of paint by numbers without mixture
Thanks to this process of adjacent boxes, paint by numbers without mix-ture can be applied to all kinds of canvas. As you can see by browsing our models, there are no limits.
You may be interested in modern painting, pop art, figurative or ab-stract representations, pastels, animals, landscapes, cityscapes, romanti-cism or still-life's… everything is possible, without ever having to mix your paints.
Let yourself be carried away by this creative hobby that gives you a wonderful moment of peace. If you are under stress, adult paint by numbers offers you a moment of calm and relaxation.
Just follow the numbers and you will gradually see your canvas take shape before your eyes. As soon as you take a step back, you'll discover the contrasts and the reliefs, and you will undoubtedly be surprised at the finesse of the lines.
Your photo in personalized paint by numbers
It is always on this same principle that you can entrust us with your photos to transform them into paint by numbers without mixing. Starting from a good quality photo, our software will apply filters and treatments that a technician will then refine so that the numbered canvas reproduces your original image as faithfully as possible.
If you want to paint a truly unique canvas, this is the best opportuni-ty to get started. You can choose a portrait: that of your children, your parents, your best friend or late family... Paintings of pets are also very popular, you can immortalize your dog, your cat or your horse. If you have a landscape in mind, perhaps a vacation memory, a family home, a property that holds a special place in your heart; all you need is a photo and our expert technicians. We take care of the rest.
A truly unique gift
Unmixed paint by numbers is a great gift idea. It is truly original and will allow your friends to discover an exciting, creative hobby.
Again, you can send us a photo to offer an absolutely unique gift. If you have a message to convey to a person you particularly appreciate, the occasion is too good; a picture will certainly say more than words ever could!
The complete unmixed paint by numbers kit
You'll receive your unmixed paint by numbers in a complete kit. As soon as you receive your package, you can get to work. The kit contains the sup-port which is a linen canvas. It is the easiest material to use, requires no preparation and is suitable for all painting styles and for all paint-ers, beginners or experienced. It is solid and does not deform over time, despite variations in temperature and humidity, as well as the colours will not move.
For the paint, we have chosen acrylic, which has the most advantages. It is ready to use, easy to handle, dries quickly and lasts very well over time. It is perfectly compatible with linen.
Acrylic paint washes out with water; you don't have to buy any specific product. The paint pots are numbered, and you don't have to mix anything, everything is ready to use.
The brushes are optional, for those who don't have any at home. We of-fer a pack of 3 or 10 brushes for you to choose from, according to the mod-el you have chosen. They are suitable for the practice of paint by numbers, as they include fine-tipped brushes for the much smaller boxes, for which you need more precision.
That's it, all you have to do is choose your model, or a photo to send us; the quicker you get to work, the sooner you can adorn your masterpiece on the wall!